[ad_1]
"Is Marvel in trouble?" That seems to be the question that's been asked over and over again ever since the Multiverse Saga began, but some fresh fuel has been added to the fire to make fans ask the question with even more immediacy and anxiety.
Variety has shared a jaw-dropping exposé about Marvel's, well, honestly kind of catastrophic 2023, reporting various shocking behind-the-scenes developments concerning everything from Jonathan Majors' future in the franchise to the state of The Marvels. Here's the 10 biggest revelations that are making us realize if Marvel really is in trouble.
1. Marvel doubted Jonathan Majors as Kang even before his arrest
Marvel's creatives held their annual Palm Springs retreat this September and, according to Variety, what to do with Jonathan Majors was apparently, and unsurprisingly, the big discussion point. Interestingly, though, it's claimed that the studio has been doubting whether to stick behind Jonathan Majors as the focal point of this saga since Quantumania massively underperformed, before the actor's legal problems began.
2. Marvel is considering promoting Doctor Doom to big bad
When it comes to replacing Majors as the Multiverse Saga's big bad, generally the conversation has revolved around which actor could take over the role of Kang. One alternate option that Marvel discussed at the retreat, however, was ditching Kang altogether for a different main villain. Doctor Doom, in particular, was touted as a potential pick, although it's unclear how popular this idea was.
3. Marvel is considering resurrecting Iron Man and Black Widow
Marvel is desperate to recapture its glory days, that much is clear, and that might even involve convincing its old stars to return to the fold. The studio is reportedly unafraid to break the bank and invite Robert Downey Jr. back as Tony Stark, not to mention Scarlett Johansson as Black Widow. As you'd expect, the multiverse would be the reason how these heroes could return following their deaths in Avengers: Endgame.
4. The Marvels required a hefty 4 weeks of reshoots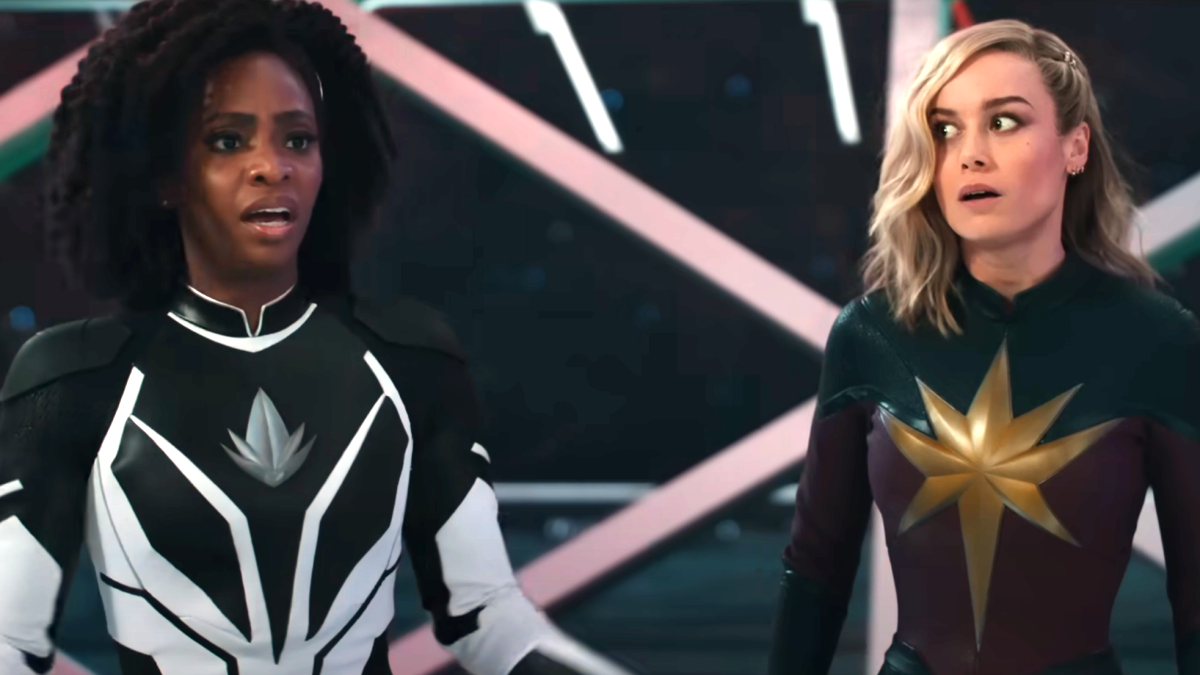 Reshoots are nothing to write home about when it comes to Marvel productions, but the fact that The Marvels had to undergo an entire month of extra filming in order to get it in usable condition is still more than a little eyebrow-raising. Marvel is believed to have felt the film was suffering from a "tangled storyline" after principal production, hence the hefty reshoots. Unfortunately, test audiences still only gave it a "middling" reception.
5. Director Nia DaCosta exited The Marvels during post-production
In further alarming The Marvels updates, director Nia DaCosta is said to have ditched her big MCU debut during post-production. The filmmaker supposedly stepped away in order to start work on her indie drama film, Hedda, starring Tessa Thompson. "If you're directing a $250 million movie, it's kind of weird for the director to leave with a few months to go," said an insider source.
6. She-Hulk was even more exorbitantly costly than Secret Invasion
Remember when Secret Invasion came under fire for sporting a budget of over $200 million? Well, it turns out She-Hulk: Attorney at Law earned an even bigger price tag, costing around $25 million an episode and $225 million in total, making it $10 million more expensive than SI. The blame is being rested squarely at Kevin Feige's door by those in the know, thanks to creative overhauls that required VFX to be redone late in the day.
7. Kevin Feige is being "spread thin" as Marvel piles on the projects
Speaking of Feige, the Marvel president has always been viewed as the studio's golden goose with his hands all over every single product that comes out the pipeline, but lately it's felt like certain films and shows have been missing his magic touch. It seems that's because there are just too many productions coming out for Feige to give each one the attention he'd like. "These days, he's spread thin," was the ominous warning given by Variety's source.
8. Bob Iger was furious over Quantumania's VFX troubles
In the wake of Quantumania's release, Marvel's VFX artists came forward about the toxic working conditions they faced on the film, which ultimately led them to unionize. Disney's comeback kid CEO Bob Iger is said to have been "apoplectic" about the bad PR fallout from this and was looking for someone to blame for why Marvel's "quality control" was "plummeting." Insiders say this was the real reason long-term producer Victoria Alonso was fired, as a "scapegoat."
9. 'Bizarre' Blade screenplay sidelined Mahershala Ali's antihero
Remember Blade? The Mahershala Ali reboot was announced over four years ago and it's seemed to be spinning in place ever since. Various scripts have come and gone, with one "bizarre" rendition reportedly female-led and filled with "life lessons," with two-time Oscar winner Ali reduced to the "fourth lead." As things currently stand, Logan's Michael Green is the latest screenwriter and its budget might be shrunk to less than $100 million.
10. It all rests on the arrival of the X-Men and the Fantastic Four
With the Multiverse Saga definitely not going as Marvel hoped so far, the studio looks to be banking it all on the incoming arrivals of two lucrative Fox IPs, the X-Men and the Fantastic Four. With exciting new characters and brands entering the fray all the time, then, Marvel might not be in as much trouble as it appears. Like one expert that Variety spoke to put it, "Writing the Marvel obituary would be ill-advised."
[ad_2]
Source link
– Armessa Movie News